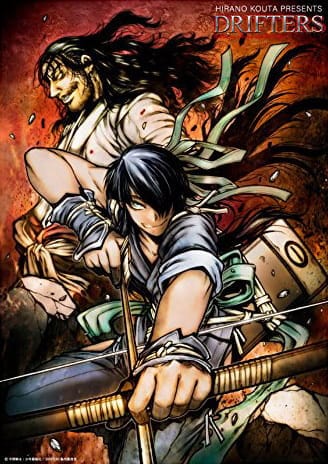 Aired: Dec 23, 2017
Duration: 26 min. per ep.
Viewed: 3927
Synonyms: Drifters OVA
Despite the Ends' attack on Verlina being successfully repelled, the war has not yet ended. With the monster armies regrouping, the Black King tightens his grasp on the already conquered territory. New conflicts erupt all across Orte, as its remaining forces struggle to retain control over long-oppressed demi-human races. While Ends grow more potent each day, Toyohisa Shimazu remains unconscious after heavy injuries suffered during the Battle of Verlina. Facing enemies on every side, humanity's fate is still on a knife's edge. [Written by MAL Rewrite]
Oda, Nobunaga

Main

Shimazu, Toyohisa

Main

Nasu, Yoichi Suketaka

Main

Yoshitsune, Minamoto no

Supporting

Yamaguchi, Tamon

Supporting

The Sundance Kid

Supporting

The Black King

Supporting

Shylock VIII, Banzelmassin

Supporting

Shara

Supporting

Olmine

Supporting

Kanno, Naoshi

Supporting

Flemi

Supporting

Easy

Supporting

Count Saint-Germi

Supporting

Cassidy, Butch

Supporting

Barca, Hannibal

Supporting

Alester

Supporting

Africanus, Scipio

Supporting

Abe no, Haruakira

Supporting
Because we are making use of some free resources to reduce the main server load, the player can be opened on another domain or showed as a new tab (you have to allow pop-up if you're not using Chrome).