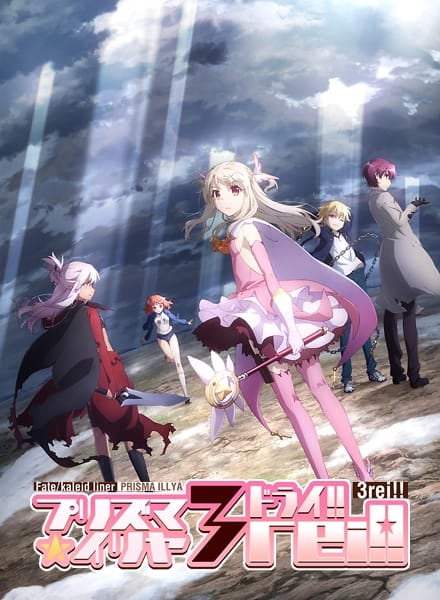 Aired: Jul 6, 2016 to Sep 21, 2016
Duration: 24 min. per ep.
Viewed: 306
Synonyms: Fate/kaleid liner Prisma?Illya 3rei!!
Waking up to find herself in a parallel version of Fuyuki City, Illyasviel "Illya" von Einzbern is lost and alone. She discovers her home in ruins, with a massive crater lying in the center of her hometown. With snow falling in the middle of summer, confusion consumes the young elementary schooler, who has no knowledge of where her friends or her wand Ruby may be. Making it to the remains of her house, she is suddenly tackled by an amnesiac girl. Wearing a gym uniform as the icy temperature sets in, the mysterious girl has no idea of where she is or why she showed up. However, this stranger, known as Tanaka, apparently has information about the location of Rin Toosaka, Miyu Edelfelt, and the rest of Illya's missing friends. Fleeing from agents of the Ainsworth family⁠—those in control of this parallel realm—where will these two end up, and how will Illya restore the present back to the world she once knew? [Written by MAL Rewrite]
Gilgamesh

Main

von Einzbern, Chloe

Main

von Einzbern, Illyasviel

Main

Edelfelt, Miyu

Main

Toosaka, Rin

Supporting

Tanaka

Supporting

Sella

Supporting

Moriyama, Nanaki

Supporting

Matou, Sakura

Supporting

Magical Sapphire

Supporting

Magical Ruby

Supporting

Leysritt

Supporting

Kurihara, Suzuka

Supporting

Kotomine, Kirei

Supporting

Katsura, Mimi

Supporting

Gakumazawa, Tatsuko

Supporting

Fraga McRemitz, Bazett

Supporting

Flowerchild, Beatrice

Supporting

Emiya, Shirou

Supporting

Edelfelt, Luviagelita

Supporting
Because we are making use of some free resources to reduce the main server load, the player can be opened on another domain or showed as a new tab (you have to allow pop-up if you're not using Chrome).