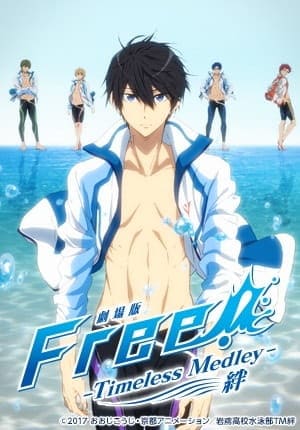 Aired: Apr 22, 2017
Duration: 1 hr. 35 min.
Viewed: 266
Synonyms: Free! Movie 1: Timeless Medley - Kizuna
Haruka Nanase has reconciled with his rival Rin Matsuoka, and they have re-established their friendship, determined to race each other again. Now Haruka, along with Makoto Tachibana, Rei Ryuugazaki, and Nagisa Hazuki, prepare for their upcoming tournaments, determined to compete wholeheartedly and achieve victory as a team. At Samezuka Academy, Rin resolves to do the same. Further, the seniors near graduation, and Rin has decided his future plans. However, Haruka and Makoto remain uncertain, and they begin to feel the pressure of having to choose their own paths. [Written by MAL Rewrite]
Matsuoka, Rin

Main

Nanase, Haruka

Main

Ryuugazaki, Rei

Main

Tachibana, Makoto

Main

Hazuki, Nagisa

Main

Yamazaki, Sousuke

Supporting

Tachibana, Ren

Supporting

Tachibana, Mother

Supporting

Tachibana, Father

Supporting

Tachibana, Ran

Supporting

Shiina, Asahi

Supporting

Shigino, Hayato

Supporting

Shigino, Kisumi

Supporting

Sasabe, Gorou

Supporting

Russell

Supporting

Nitori, Aiichirou

Supporting

Mikoshiba, Seijuurou

Supporting

Mikoshiba, Momotarou

Supporting

Matsuoka, Gou

Supporting

Lori

Supporting
Because we are making use of some free resources to reduce the main server load, the player can be opened on another domain or showed as a new tab (you have to allow pop-up if you're not using Chrome).