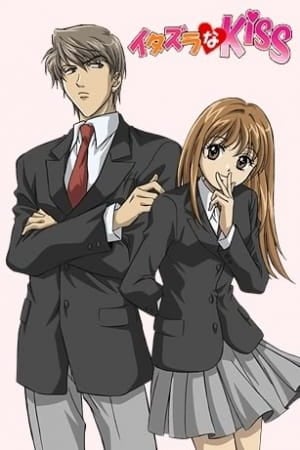 Aired: Apr 5, 2008 to Sep 25, 2008
Duration: 24 min. per ep.
Viewed: 2559
Synonyms: Itazura na Kiss
When her newly-built home is razed to the ground by an earthquake, low-achieving, clumsy, and troublesome third-year high school student Kotoko Aihara is forced to share a roof with the school's—and possibly Japan's—smartest student, Naoki Irie. Kotoko is not actually a complete stranger to Irie-kun; unfortunately, a single love letter that she tried to give him in the past has already sealed her fate as far as he is concerned. Throw in some quirky friends and a meddlesome mother, and Kotoko might not even have a snowball's chance in hell of winning the older Irie boy's heart. Yet Kotoko remains optimistic that, because she now lives in his house, her unattainable crush on the genius since the beginning of high school has never been more within reach. [Written by MAL Rewrite]
Irie, Naoki

Main

Aihara, Kotoko

Main

Yoshida, Toyo

Supporting

Watanabe

Supporting

Sudou

Supporting

Shinagawa, Marina

Supporting

Robbins, Christine

Supporting

Robbins, Mary

Supporting

Ogura, Tomoko

Supporting

Nagasawa, Akiko

Supporting

Matsumoto, Yuuko

Supporting

Matsumoto, Ayako

Supporting

Komori, Jinko

Supporting

Kimura, Nobuhiro

Supporting

Kikyou, Motoki

Supporting

Kamogari, Keita

Supporting

Ishikawa, Satomi

Supporting

Irie, Noriko

Supporting

Irie, Kotomi

Supporting

Irie, Shigeki

Supporting
Because we are making use of some free resources to reduce the main server load, the player can be opened on another domain or showed as a new tab (you have to allow pop-up if you're not using Chrome).