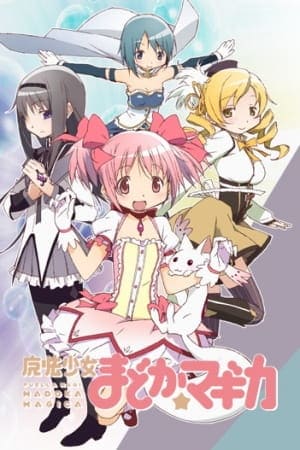 Aired: Jan 7, 2011 to Apr 22, 2011
Duration: 24 min. per ep.
Viewed: 104
Synonyms: Mahou Shoujo Madoka Magica
Madoka Kaname and Sayaka Miki are regular middle school girls with regular lives, but all that changes when they encounter Kyuubey, a cat-like magical familiar, and Homura Akemi, the new transfer student. Kyuubey offers them a proposition: he will grant any one of their wishes and in exchange, they will each become a magical girl, gaining enough power to fulfill their dreams. However, Homura Akemi, a magical girl herself, urges them not to accept the offer, stating that everything is not what it seems. A story of hope, despair, and friendship, Mahou Shoujo Madoka★Magica deals with the difficulties of being a magical girl and the price one has to pay to make a dream come true. [Written by MAL Rewrite]
Kaname, Madoka

Main

Kyuubey

Main

Miki, Sayaka

Main

Sakura, Kyouko

Main

Tomoe, Mami

Main

Akemi, Homura

Main

Walpurgis Night

Supporting

Shizuki, Hitomi

Supporting

Saotome, Kazuko

Supporting

Nakazawa

Supporting

Kaname, Junko

Supporting

Kaname, Tomohisa

Supporting

Kaname, Tatsuya

Supporting

Kamijou, Kyousuke

Supporting

H.N. Elly

Supporting

Gertrud

Supporting

Elsa Maria

Supporting

Charlotte

Supporting
Because we are making use of some free resources to reduce the main server load, the player can be opened on another domain or showed as a new tab (you have to allow pop-up if you're not using Chrome).