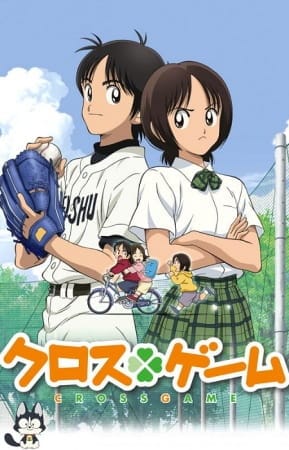 Aired: Apr 5, 2009 to Mar 28, 2010
Duration: 23 min. per ep.
Viewed: 893
Synonyms: Cross Game
Kou Kitamura and Aoba Tsukishima are often at odds—even though their families happen to be close friends and business partners. Although the only child of a sports shop owner, Kou has never been interested in playing baseball. Despite this, he possesses an impressive batting ability honed by frequent visits to the local baseball batting center run by the Tsukushima family. On the other hand, Aoba loves to play baseball and is a star player with exceptional pitching form. However, these two seemingly complete opposites share something very important to them—Wakaba Tsukishima, Aoba's older sister and Kou's destined sweetheart. Admired by the quarrelsome duo, Wakaba often finds herself the catalyst to their never-ending rivalry. But whether or not they realize that they have more in common than either would care to admit, only time will tell. The game of baseball may just be what the pair needs to ultimately overcome their own personal struggles. [Written by MAL Rewrite]
Tsukishima, Aoba

Main

Kitamura, Kou

Main

Tsukishima, Ichiyou

Supporting

Nakagawa, Kyoko

Supporting

Tsukishima, Momiji

Supporting

Tsukishima, Youko

Supporting

Senda, Keiichirou

Supporting

Sekiguchi

Supporting

Sakata

Supporting

Oukubo, Hiroko

Supporting

Oukubo, Yokomichi

Supporting

Onoda, Tohru

Supporting

Old man

Supporting

Oikawa, Takuro

Supporting

Ogura, Kazuo

Supporting

Nomo

Supporting

Nishiguchi, Coach

Supporting

Narita

Supporting

Nakanishi, Daiki

Supporting

Yashiro

Supporting
Because we are making use of some free resources to reduce the main server load, the player can be opened on another domain or showed as a new tab (you have to allow pop-up if you're not using Chrome).