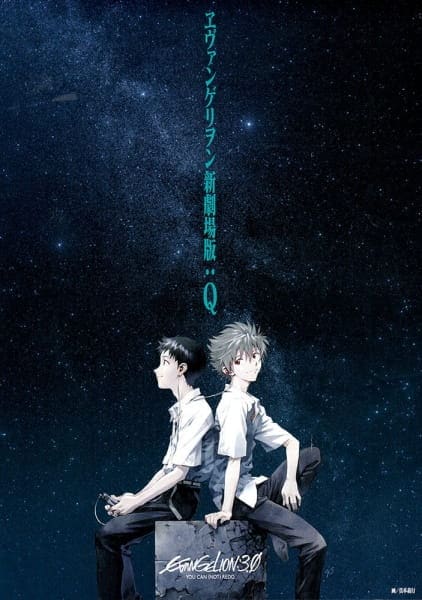 Aired: Nov 17, 2012
Duration: 1 hr. 36 min.
Viewed: 48
Synonyms: Evangelion: 3.0 You Can (Not) Redo Movie
Fourteen years after the Third Impact, the Earth is a post-apocalyptic wasteland, human civilization is in ruins, and the people Shinji knows are almost unrecognizable. Trapped inside Evangelion Unit-01, he is recovered from space by Asuka and Mari, only to find himself a prisoner of Wille, a military faction led by his former guardian Misato Katsuragi. Cold and bitter, his former allies view him with suspicion and refuse to support him as he comes to terms with the consequences of his actions. A hurt and confused Shinji is rescued from Wille by Rei and returned to Nerv headquarters. There, he meets and quickly befriends the enigmatic Kaworu Nagisa, who offers him warmth and insight into the state of Nerv's war with the Angels. But Shinji and Kaworu's brief respite lies on the eve of a new battle, one in which Shinji finds that his enemies are no longer Angels but former comrades. In this bitter confrontation to determine the future of the world, Shinji will learn first-hand that the past truly cannot be undone. [Written by MAL Rewrite]
Ikari, Shinji

Main

Nagisa, Kaworu

Main

Ayanami (tentative), Rei

Main

Tama, Hideki

Supporting

Takau, Kohji

Supporting

Suzuhara, Sakura

Supporting

Souryuu, Asuka Langley

Supporting

Nagara, Sumire

Supporting

Makinami, Mari Illustrious

Supporting

Lorentz, Keel

Supporting

Kitakami, Midori

Supporting

Katsuragi, Misato

Supporting

Ikari, Gendou

Supporting

Ibuki, Maya

Supporting

Hyuuga, Makoto

Supporting

Fuyutsuki, Kohzou

Supporting

Aoba, Shigeru

Supporting

Akagi, Ritsuko

Supporting
Because we are making use of some free resources to reduce the main server load, the player can be opened on another domain or showed as a new tab (you have to allow pop-up if you're not using Chrome).