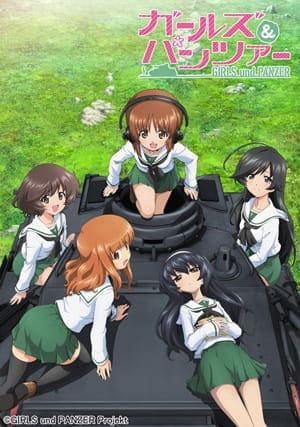 Aired: Oct 9, 2012 to Mar 25, 2013
Duration: 24 min. per ep.
Viewed: 627
Synonyms: Girls & Panzer OVAs
"Senshadou" is a traditional sport using World War II era tanks in elimination-based matches. Widely practiced by women and girls alike, it's advertised as a form of art geared towards making ladies more prominent in culture and appealing to men. Becoming a worldwide phenomenon over time, the influence of senshadou leads to the creation of a world championship which will soon be held in Japan. Miho Nishizumi, who comes from a lineage of well-respected senshadou specialists, is at odds with the sport after a traumatic event led to her retirement and eventually a rift to form between her and her family. To steer clear of the practice as much as possible, she transfers to Ooarai Girls High School where the senshadou program has been abolished. However, with the news of the upcoming championships, the school revives their tankery program, and Miho is pushed into joining. Now, with the aid of some new friends, she must overcome her past and once again take command of a squadron of tanks in an effort to save her school from closure, all while proving to her family that the Nishizumi-style of senshadou is not solely about victory. [Written by MAL Rewrite]
Isuzu, Hana

Main

Nishizumi, Miho

Main

Reizei, Mako

Main

Takebe, Saori

Main

Akiyama, Yukari

Main

Suzuki, Takako

Supporting

Naomi

Supporting

Takashima, Remi

Supporting

Rukuriri

Supporting

Reizei, Hisako

Supporting

Piyotan

Supporting

Ou, Taiga

Supporting

Orange Pekoe

Supporting

Oono, Aya

Supporting

Nonna

Supporting

Nogami, Takeko

Supporting

Nishizumi, Maho

Supporting

Nishizumi, Shiho

Supporting

Nekota

Supporting

Yamagou, Ayumi

Supporting
Because we are making use of some free resources to reduce the main server load, the player can be opened on another domain or showed as a new tab (you have to allow pop-up if you're not using Chrome).