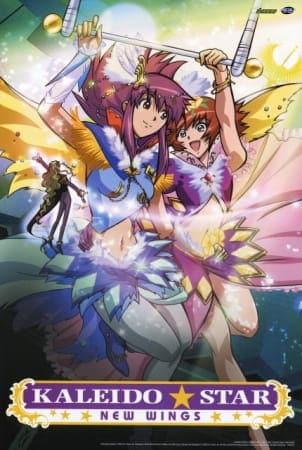 Aired: Sep 24, 2004
Duration: 24 min.
Viewed: 12
Synonyms: Kaleido Star: Aratanaru Tsubasa - Extra Stage
Sora Naegino has finally consolidated herself as Kaleido Stage's greatest star ever, and a new star starts to shine as Rosetta Passel is selected to participate in the next attraction in a main role. But when things start to go wrong in the rehearsals, Rosetta starts to question her abillity to take the role, as her own capacity to remain in Kaleido Stage. Meanwhile, Fool also struggles with his demons from the past.
Fool

Main

Naegino, Sora

Main

Passel, Rosetta

Main

Barbara

Supporting

Benigni, Jean

Supporting

Dupont, Sarah

Supporting

Eido, Kalos

Supporting

Hamilton, Layla

Supporting

Hanna

Supporting

Heart, Anna

Supporting

Jonathan

Supporting

Killian, Yuri

Supporting

Oswald, Leon

Supporting

Robbins, Ken

Supporting

Wong, May

Supporting
Because we are making use of some free resources to reduce the main server load, the player can be opened on another domain or showed as a new tab (you have to allow pop-up if you're not using Chrome).