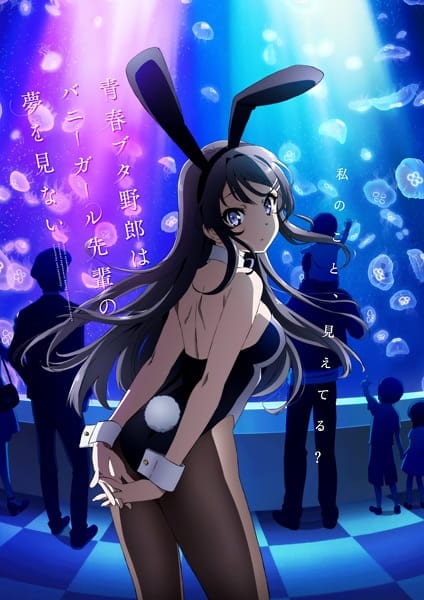 Aired: Oct 4, 2018 to Dec 27, 2018
Duration: 24 min. per ep.
Viewed: 359
Synonyms: Seishun Buta Yarou wa Bunny Girl Senpai no Yume wo Minai
The rare and inexplicable Puberty Syndrome is thought of as a myth. It is a rare disease which only affects teenagers, and its symptoms are so supernatural that hardly anyone recognizes it as a legitimate occurrence. However, high school student Sakuta Azusagawa knows from personal experience that it is very much real, and happens to be quite prevalent in his school. Mai Sakurajima is a third-year high school student who gained fame in her youth as a child actress, but recently halted her promising career for reasons unknown to the public. With an air of unapproachability, she is well known throughout the school, but none dare interact with her—that is until Sakuta sees her wandering the library in a bunny girl costume. Despite the getup, no one seems to notice her, and after confronting her, he realizes that she is another victim of Puberty Syndrome. As Sakuta tries to help Mai through her predicament, his actions bring him into contact with more girls afflicted with the elusive disease. [Written by MAL Rewrite]
Azusagawa, Sakuta

Main

Sakurajima, Mai

Main

Azusagawa, Kaede

Supporting

Futaba, Rio

Supporting

Hanawa, Ryouko

Supporting

Hirokawa, Uzuki

Supporting

Kamisato, Saki

Supporting

Kano, Kotomi

Supporting

Kashiba, Rena

Supporting

Koga, Tomoe

Supporting

Kunimi, Yuuma

Supporting

Maesawa, Yousuke

Supporting

Mai's Mother

Supporting

Makinohara, Shouko

Supporting

Nanjou, Fumika

Supporting

Toyohama, Nodoka

Supporting
Because we are making use of some free resources to reduce the main server load, the player can be opened on another domain or showed as a new tab (you have to allow pop-up if you're not using Chrome).