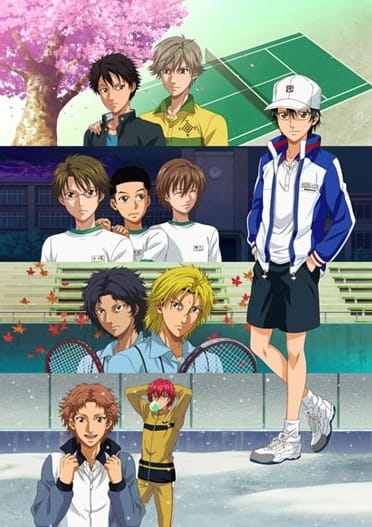 Aired: Aug 26, 2011 to Oct 26, 2011
Duration: 22 min. per ep.
Viewed: 26
Synonyms: Tennis no Ouji-sama: Another Story II - Ano Toki no Bokura
Episode 1: Shiraishi becomes the captain of Shitenhoji Tennis Club. In order to maintain the club, the members have to invite a new member. They try to attract Zaizen's attention by showing him jokes but Zaizen passes them off. Episode 2: Ryoma is told Seigaku's seven ghost stories by Momoshiro. They are quite common stories but the third grade members leave the club room in a hurry. Fuji says "It's time to confide this to you." and he begins to tell what he experienced two years ago.
Chitose, Senri

Main

Akutagawa, Jirou

Main

Tezuka, Kunimitsu

Main

Tachibana, Kippei

Main

Shiraishi, Kuranosuke

Main

Oishi, Shuichiro

Main

Momoshiro, Takeshi

Main

Marui, Bunta

Main

Kawamura, Takashi

Main

Kaidou, Kaoru

Main

Inui, Sadaharu

Main

Fuji, Shuusuke

Main

Echizen, Ryouma

Main

Kikumaru, Eiji

Main

Mukahi, Gakuto

Supporting

Niou, Masaharu

Supporting

Ootori, Choutarou

Supporting

Oshitari, Kenya

Supporting

Oshitari, Yuushi

Supporting

Ryuzaki, Sumire

Supporting
Because we are making use of some free resources to reduce the main server load, the player can be opened on another domain or showed as a new tab (you have to allow pop-up if you're not using Chrome).