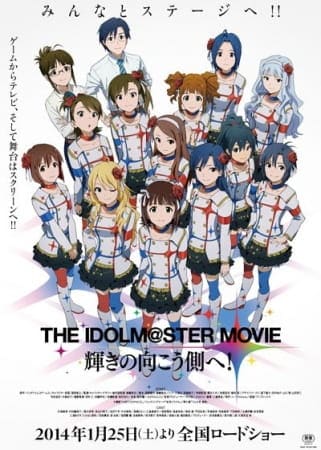 Aired: Jan 25, 2014
Duration: 2 hr. 1 min.
Viewed: 4
The idols of 765 Production continue on their neverending journey—towards a new stage, towards a bright and shiny future! The girls and their producer have gone through thick and thin, and have stood face to face with all kinds of difficulties. It's time again for the girls to foster their friendship, and through great discipline, they step forward to their starry future. (Source: Official website)
Amami, Haruka

Main

Akizuki, Ritsuko

Main

Takatsuki, Yayoi

Main

Shijou, Takane

Main

Producer

Main

Miura, Azusa

Main

Minase, Iori

Main

Kisaragi, Chihaya

Main

Kikuchi, Makoto

Main

Hoshii, Miki

Main

Hagiwara, Yukiho

Main

Ganaha, Hibiki

Main

Futami, Mami

Main

Futami, Ami

Main

Yoshizawa

Supporting

Yokoyama, Nao

Supporting

Yabuki, Kana

Supporting

Voice Trainer

Supporting

Toyokawa, Fuuka

Supporting

Tokugawa, Matsuri

Supporting
Because we are making use of some free resources to reduce the main server load, the player can be opened on another domain or showed as a new tab (you have to allow pop-up if you're not using Chrome).