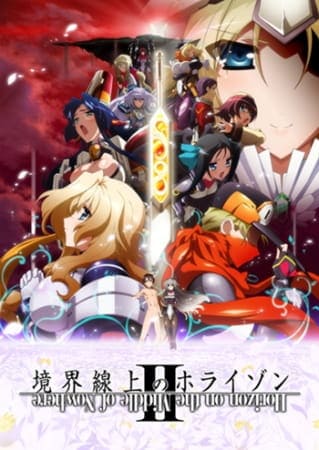 Aired: Jul 8, 2012 to Sep 30, 2012
Duration: 24 min. per ep.
Viewed: 4
Synonyms: Kyoukai Senjou no Horizon II
Taking advantage of the opportunity that the Mikawa Conflict provides, Tori and his comrades attempt to rescue Horizon from the Testament Union. But even as the Floating City Musashi speeds towards its next destination, the Floating Island England, Tres España is preparing its own armada for war against the British Islanders. Now, as the quest of Horizon's emotions builds to its climax, Tori's new battle is about to begin in the land ruled by the Fairy Queen! The reenactment of the history described in the mysterious Testament continues as the secret of the Armor of Deadly Sins is unleashed in the spectacular second season of Horizon in the Middle of Nowhere! (Source: Sentai Filmworks)
Ariadust, Horizon

Main

Crossunite, Tenzou

Main

Honda, Masazumi

Main

Stuart, Mary

Main

Aoi, Toori

Main

Naomasa

Supporting

Oriotorai, Makiko

Supporting

Musashi

Supporting

Narumi, Date

Supporting

Mitotsudaira, Nate

Supporting

Mishina, Hiro

Supporting

Yoshinao

Supporting

Mukai, Suzu

Supporting

Naruze, Malga

Supporting

Nenji

Supporting

Neshinbara, Toussaint

Supporting

Noriki

Supporting

O'Malley, Grace

Supporting

Ohiroshiki, Ginji

Supporting

Matsu, Maeda

Supporting
Because we are making use of some free resources to reduce the main server load, the player can be opened on another domain or showed as a new tab (you have to allow pop-up if you're not using Chrome).