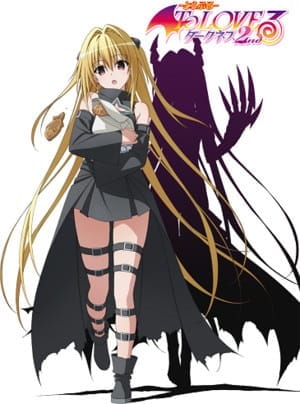 Aired: Jul 7, 2015 to Oct 29, 2015
Duration: 23 min. per ep.
Viewed: 69
Synonyms: To LOVE-Ru Darkness 2nd
The dispassionate, transforming assassin Golden Darkness returns to peer deeper into the mysteries surrounding her new life, while a sinister Nemesis manipulates her younger sister Mea from the shadows. Along with their newly discovered mother, Tearju, this previously estranged family quickly becomes the center of everyone's attention. On the other hand, Princess Momo's Harem Plan stands on shaky ground amidst Rito's inability to confess to his longtime crush Haruna, who has grown feelings of her own. But things aren't as peaceful as they seem; an evil force looms amidst the innocuous commotion, threatening to eclipse the love, happiness, and friendship of Rito and his harem. Only the light of love can hope to banish the shadow. [Written by MAL Rewrite]
Konjiki no Yami

Main

Kurosaki, Mea

Main

Yuuki, Rito

Main

Deviluke, Momo Belia

Main

Murasame, Shizu

Supporting

Zastin

Supporting

Nakajima

Supporting

Nemesis

Supporting

Peke

Supporting

Principal

Supporting

Sairenji, Haruna

Supporting

Saruyama, Kenichi

Supporting

Sawada, Mio

Supporting

Shirayuri, Koyomi

Supporting

Smutts

Supporting

Tenjouin, Saki

Supporting

Yuuki, Mikan

Supporting

Yuuki, Saibai

Supporting

Motemitsu, Taizou

Supporting

Momioka, Risa

Supporting
Because we are making use of some free resources to reduce the main server load, the player can be opened on another domain or showed as a new tab (you have to allow pop-up if you're not using Chrome).