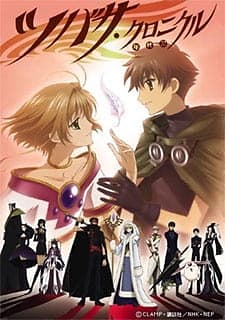 Aired: Apr 9, 2005 to Oct 15, 2005
Duration: 25 min. per ep.
Viewed: 872
Synonyms: Tsubasa RESERVoir CHRoNiCLE, Tsubasa: RESERVoir CHRoNiCLE, ツバサ・クロニクル
During an excavation at the mysterious ruins in Clow Country, Syaoran discovers his childhood friend Princess Sakura appear on the site with wings that disperse into many feathers. As the feather's disappear to different dimensions, so does Sakura's memory. In attempts to save Sakura's life and restore her memory, Syaoran travels through to another world to find a solution. There's only one thing left he can do. Travel through to different dimensions to collect Sakura's feathers. Helping out with the quest is Kurogane, an exiled ninja from Japan Country who wishes to return to his world, the runaway magician, Fay, who desires to jump between each world never to return to his own and the white meat-bun shaped creature, Mokona.
Kurogane

Main

Modoki, Mokona

Main

Sakura

Main

Syaoran

Main

Flourite, Fai D.

Main

Watanuki, Kimihiro

Supporting

Kishu, Arashi

Supporting

Shiyu, Kusanagi

Supporting

Sumomo

Supporting

Souma

Supporting

Tsukishiro, Yukito

Supporting

Reed, Fei Wong

Supporting

Reed, Clow

Supporting

Primera

Supporting

Oruha

Supporting

Old Man

Supporting

Nekoi, Yuzuriha

Supporting

Li, Syaoran

Supporting

Kotoko

Supporting

Wizard

Supporting
Because we are making use of some free resources to reduce the main server load, the player can be opened on another domain or showed as a new tab (you have to allow pop-up if you're not using Chrome).