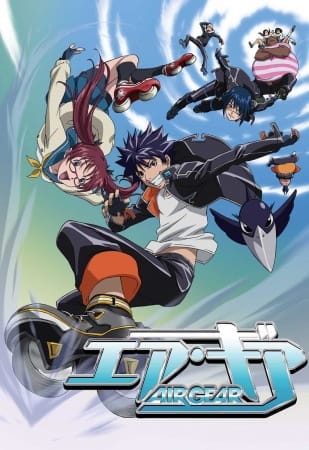 Aired: Apr 5, 2006 to Sep 27, 2006
Duration: 24 min. per ep.
Viewed: 456
Synonyms: Air Gear
Air Trecks, also known as AT, are motorized and futuristic inline skates that are the new craze taking the nation by storm. Although each AT comes with a speed limiter, a community of daredevils known as the "Storm Riders" are brave enough to tamper with the device. Utilizing AT's in underground battles, individual teams wager valuable AT parts or team emblems—their symbol of pride—to dominate the streets. Living in this era is Itsuki Minami, a middle school student notorious for engaging in street fights. Always wanting to reach heights no one else is able to, the reckless punk will break through any obstacle that stands in his way, alongside his best friends Kazuma Mikura and Onigiri. However, it is when he discovers a pair of Air Trecks in his house that the path to his true desire finally opens: to rule the skies. [Written by MAL Rewrite]
Minami, Itsuki

Main

Noyamano, Ringo

Main

Onigiri

Main

Mikura, Kazuma

Main

Yoshitsune

Supporting

Wanijima, Kaito

Supporting

Wanijima, Agito

Supporting

Udou, Akira

Supporting

Tomita, Mari

Supporting

Tokudawara, Gonzou

Supporting

Takeuchi, Sora

Supporting

Spitfire

Supporting

Simca

Supporting

Sano, Yasuyoshi

Supporting

Plugman, DJ

Supporting

Nue

Supporting

Noyamano, Mikan

Supporting

Noyamano, Rika

Supporting

Noyamano, Shiraume

Supporting

Nakayama, Yayoi

Supporting
Because we are making use of some free resources to reduce the main server load, the player can be opened on another domain or showed as a new tab (you have to allow pop-up if you're not using Chrome).