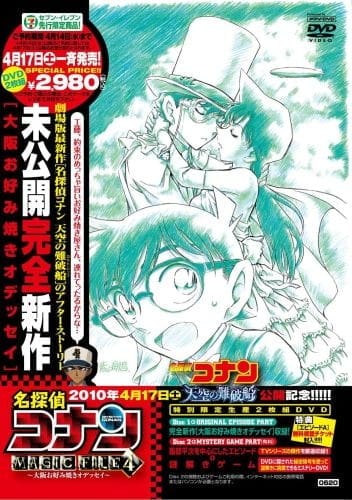 Aired: Apr 17, 2010
Duration: 25 min.
Viewed: 6
Synonyms: Detective Conan Magic File 4: Osaka Okonomiyaki Odyssey
Another special to accompany the release of the 14th feature film, The Lost Ship in the Sky. Along with a number of previous episodes, the original episode contained within will take place after the events of the film.
Edogawa, Conan

Main

Hattori, Heiji

Main

Tooyama, Kazuha

Main

Haibara, Ai

Supporting

Kojima, Genta

Supporting

Konishi, Kaoru

Supporting

Konishi, Karin

Supporting

Konishi, Hikaru

Supporting

Mouri, Ran

Supporting

Ootaki, Gorou

Supporting

Suzuki, Sonoko

Supporting

Tsuburaya, Mitsuhiko

Supporting

Yoshida, Ayumi

Supporting
Because we are making use of some free resources to reduce the main server load, the player can be opened on another domain or showed as a new tab (you have to allow pop-up if you're not using Chrome).