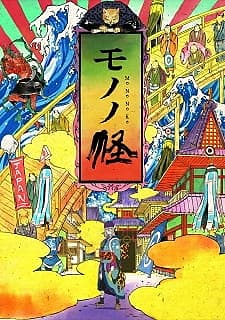 Aired: Jul 13, 2007 to Sep 28, 2007
Duration: 22 min. per ep.
Viewed: 813
Synonyms: Mononoke
The "Medicine Seller" is a deadly and mysterious master of the occult who travels across feudal Japan in search of malevolent spirits called "mononoke" to slay. When he locates one of these spirits, he cannot simply kill it; he must first learn its Form, its Truth, and its Reason in order to wield the mighty Exorcism Sword and fight against it. He must begin his strange exorcisms with intense psychological analysis and careful investigative work—an extremely dangerous step, as he must first confront and learn about the mononoke before he even has the means to defeat it. The Medicine Seller's journey leads him to an old-fashioned inn where Shino, a pregnant woman, has finally found a place to rest. The owner has reluctantly placed her in the last vacant room; however, as she settles in, it quickly becomes clear that the room is infested by a lethal band of mononoke, the Zashiki Warashi. With his hunter's intuition, the Medicine Seller begins his investigation to discover the Form, the Truth, and the Reason before the Zashiki Warashi can kill again. [Written by MAL Rewrite]
Kusuriuri

Main

Muromachi, Tomoyoshi

Supporting

Yanagi, Genyousai

Supporting

Yamaguchi, Haru

Supporting

Umizatou

Supporting

Tokuji

Supporting

Sougen

Supporting

Shino

Supporting

Sasaki, Hyoue

Supporting

Ruri-hime

Supporting

Oyou

Supporting

Oosawa, Roubou

Supporting

Ochou's Mother

Supporting

Ochou

Supporting

Nomoto, Chiyo

Supporting

Nakarai, Tansui

Supporting

Moriya, Kiyoshi

Supporting

Mikuniya, Tamon

Supporting

Man in Fox Mask

Supporting

Kobayashi, Masao

Supporting
Because we are making use of some free resources to reduce the main server load, the player can be opened on another domain or showed as a new tab (you have to allow pop-up if you're not using Chrome).