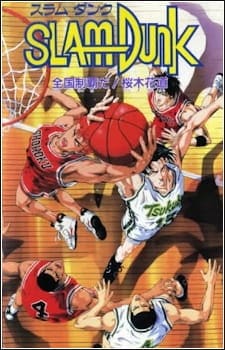 Aired: Aug 20, 1994
Duration: 45 min.
Viewed: 109
Synonyms: Slam Dunk: Zenkoku Seiha Da! - Sakuragi Hanamichi
Set during the Inter High Championships, Shohoku take on Tsukubu, one of this year's dark horses. It's a clash of acquaintances as Anzai will face his former student which is now the coach of Tsukubu, while Akagi & Kogure meet Godai their former classmate and Tsukubu's captain. Finally Sakuragi is irked by the presence of Nango, Tsukubu's center, who vies for Haruko's attention. (Source: ANN)
Mitsui, Hisashi

Main

Miyagi, Ryota

Main

Rukawa, Kaede

Main

Sakuragi, Hanamichi

Main

Akagi, Takenori

Main

Yasuda, Yasuharu

Supporting

Uozumi, Jun

Supporting

Takamiya, Nozomi

Supporting

Shiozaki, Tetsushi

Supporting

Sasaoka, Satoru

Supporting

Ookusu, Yuuji

Supporting

Noma, Chuichirou

Supporting

Nangou, Kouichirou

Supporting

Mito, Youhei

Supporting

Matsui

Supporting

Maki, Shinichi

Supporting

Kogure, Kiminobu

Supporting

Kakuta, Satoru

Supporting

Ishii, Kentarou

Supporting

Fujii

Supporting
Because we are making use of some free resources to reduce the main server load, the player can be opened on another domain or showed as a new tab (you have to allow pop-up if you're not using Chrome).