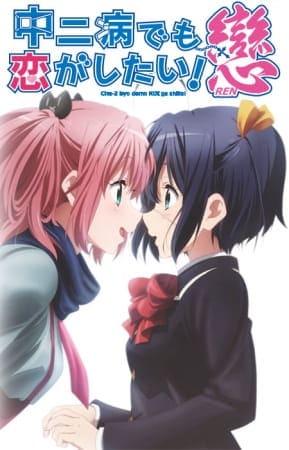 Aired: Jan 9, 2014 to Mar 27, 2014
Duration: 24 min. per ep.
Viewed: 46
Synonyms: Chuunibyou demo Koi ga Shitai! Ren
The awkward lovebirds, Yuuta Togashi and Rikka Takanashi are now living together as they enter a new school year, but their adorable relationship remains stagnant. Yuuta struggles to adapt to having a chuuni girlfriend while the gang—Sanae Dekomori, Shinka Nibutani and Kumin Tsuyuri—are still keeping up with their quirks despite having advanced a grade. Making matters worse, another chuuni girl from Yuuta's middle school, Satone Shichimiya, appears... With the various events revolving around Yuuta, will he be able to develop his relationship with Rikka? [Written by MAL Rewrite]
Nibutani, Shinka

Main

Shichimiya, Satone

Main

Takanashi, Rikka

Main

Togashi, Yuuta

Main

Tsuyuri, Kumin

Main

Dekomori, Sanae

Main

Tsuyuri, Aunt

Supporting

Tsukumo, Nanase

Supporting

Tokugawa, Natsumi

Supporting

Togashi, Kuzuha

Supporting

Togashi, Yumeha

Supporting

Togashi, Mother

Supporting

Takanashi, Tooka

Supporting

Takanashi, Mother

Supporting

Nemuri, Sui

Supporting

Kannagi, Kazari

Supporting

Isshiki, Makoto

Supporting

Chihiro

Supporting

Cento

Supporting
Because we are making use of some free resources to reduce the main server load, the player can be opened on another domain or showed as a new tab (you have to allow pop-up if you're not using Chrome).