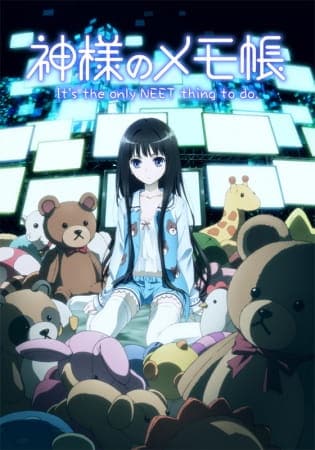 Aired: Jul 2, 2011 to Sep 24, 2011
Duration: 26 min. per ep.
Viewed: 325
Synonyms: Kami-sama no Memo-chou
Narumi Fujishima may seem like a normal high school student at first glance, but in reality he is a pessimistic outsider. Due to his father's work, he had to constantly transfer schools, and thus he has never managed to become a part of society. When he is forced to join the gardening club by his cheerful classmate Ayaka Shinozaki, Narumi encounters the genius hacker Alice, who lives in isolation above Hanamaru, the ramen shop where Ayaka works part-time. He then discovers that Alice is running a special private detective agency, and that all her professional associates refer to themselves as "NEET"s: Not in Education, Employment, or Training. Joining the NEET detective agency due to his personal connection with a criminal case, Narumi finds himself entangled in a world of dangerous investigations conducted by the ill-assorted group of detectives, all the while trying to track down the crime syndicate which seems to have mysterious ties to Alice. [Written by MAL Rewrite]
Shinozaki, Ayaka

Main

Shionji, Yuuko

Main

Fujishima, Narumi

Main

Yoshiki

Supporting

Teraoka, Satoshi

Supporting

Shinozaki, Toshio

Supporting

Sakuma, Shouko

Supporting

Nishimura

Supporting

Nemo

Supporting

Mukai, Hitoshi

Supporting

Mikawa

Supporting

Mika

Supporting

Kuwahara, Hiroaki

Supporting

Kusakabe, Charunee

Supporting

Kusakabe, Masaya

Supporting

Kuroda, Sayuri

Supporting

Kimura, Miku

Supporting

Kimura, Tomio

Supporting

Iwao

Supporting

Ichinomiya, Tetsuo

Supporting
Because we are making use of some free resources to reduce the main server load, the player can be opened on another domain or showed as a new tab (you have to allow pop-up if you're not using Chrome).