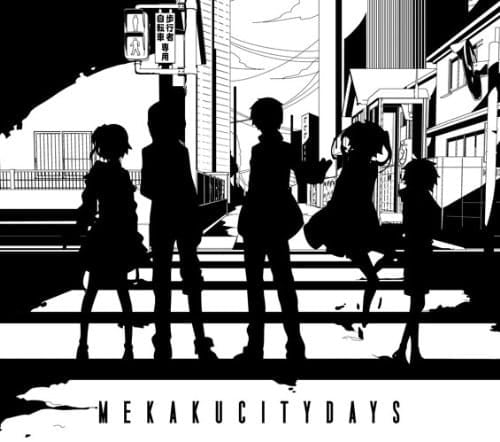 Aired: May 30, 2012
Duration: 4 min. per ep.
Viewed: 17
Synonyms: Mekakucity Days, Heat Haze Project, Kagerou Project, Kagerou Daze, Heat Haze Daze, Headphone Actor, Souzou Forest, Kuusou Forest, Konoha no Sekai Jijou, Toumei Answer, Konoha's State of World, Transparent Answer, メカクシティデイズ
Mekakucity Days is a series of music videos that tell the stories of some of the members of the "Mekakushi-dan." Kagerou Daze In the scorching heat haze of summer, Hibiya Amamiya feels every day is monotonous. On a swing in a park, he meets up with Hiyori Asahina, who gently strokes the cat in her arms. However, when the cat leaps away, Hiyori runs headlong into a never-ending tragedy—and Hibiya will do whatever it takes to see her safe. Headphone Actor "The end of the world is nigh," the news broadcast proclaims. Amidst the chaos, Takane Enomoto hears a voice in her headphones, asking if she wants to live. Following its directions, she races onward, but what awaits her may not be the salvation that she desires. Souzou Forest Due to her red eyes and white hair, everybody sees Mari Kozakura as a monster. Although she lacks the courage to do so, she dreams of escaping her house in the forest where she lives alone, imagining the world outside. Fortunately, her lonesome life begins to change with a simple knock on the door. Konoha no Sekai Jijou The android-like being Konoha lacks many memories. What he recalls are feelings of longing, but by who and for who, he cannot place. What he does know, however, is that in the heat haze of summer, a young boy and girl face a tragedy. But fate is unchangeable, and his desperate attempts to save them can never seem to rewrite the future. Toumei Answer Shintarou Kisaragi knows how every day will go. Blessed with a photographic memory, he knows he will score full marks on his next exam, and he knows that Ayano Tateyama, the girl who sits next to him, will do poorly. But with his genius also comes unrelenting boredom; not even Ayano's bright smile and optimistic outlook can make him waver. His apathy may finally be broken, however, when Ayano does something that shakes Shintarou to his very core. [Written by MAL Rewrite]
Because we are making use of some free resources to reduce the main server load, the player can be opened on another domain or showed as a new tab (you have to allow pop-up if you're not using Chrome).
Comming soon!!! But still, you're very handsome.
Please comment for requesting this anime.