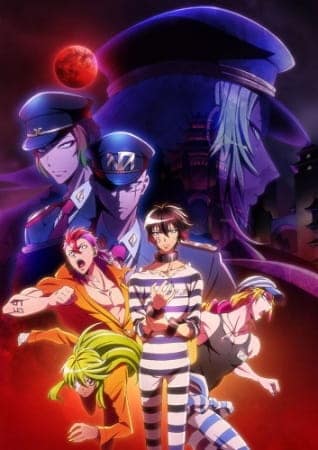 Aired: Jan 4, 2017 to Mar 22, 2017
Duration: 23 min. per ep.
Viewed: 88
Synonyms: Nanbaka (2017)
The second part of Nanbaka. The prisoners and their guards continue their comfortable lives at Nanba Prison. However, from the shadows emerges a new threat: Enki Gokuu, a person from Samon's past, who has mysterious goals of his own.
Nico

Main

Rock

Main

Sugoroku, Hajime

Main

Uno

Main

Juugo

Main

Musashi

Supporting

Yozakura, Kenshirou

Supporting

Nanairo, Nijimasu

Supporting

Nimaijita, Mao

Supporting

Otogi, Kazari

Supporting

Otogi, Okina

Supporting

Qi

Supporting

Rokuriki, Daisen

Supporting

Sanzou, Noriko

Supporting

Sanzou, Houzuki

Supporting

Sugoroku, Hitoshi

Supporting

Tanabata, Seitarou

Supporting

Trois

Supporting

Tsukumo

Supporting

Upa

Supporting