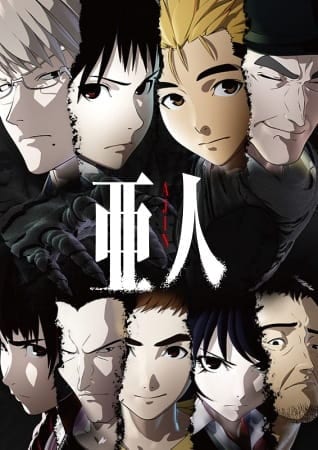 Aired: Jan 16, 2016 to Apr 9, 2016
Duration: 24 min. per ep.
Viewed: 1221
Synonyms: Ajin
Mysterious immortal humans known as "Ajin" first appeared 17 years ago in Africa. Upon their discovery, they were labeled as a threat to mankind, as they might use their powers for evil and were incapable of being destroyed. Since then, whenever an Ajin is found within society, they are to be arrested and taken into custody immediately. Studying hard to become a doctor, Kei Nagai is a high schooler who knows very little about Ajin, only having seen them appear in the news every now and then. Students are taught that these creatures are not considered to be human, but Kei doesn't pay much attention in class. As a result, his perilously little grasp on this subject proves to be completely irrelevant when he survives an accident that was supposed to claim his life, signaling his rebirth as an Ajin and the start of his days of torment. However, as he finds himself alone on the run from the entire world, Kei soon realizes that more of his species may be a lot closer than he thinks. [Written by MAL Rewrite]
Nagai, Kei

Main

Suzumura

Supporting

Nomura

Supporting

Ogura, Ikuya

Supporting

Okuyama, Masumi

Supporting

Ota

Supporting

Satou

Supporting

Shimomura, Izumi

Supporting

Sokabe

Supporting

Nekozawa

Supporting

Takahashi

Supporting

Tanaka, Kouji

Supporting

Tokui, Yuuwa

Supporting

Tosaki, Yuu

Supporting

Wakai, Hiroaki

Supporting

Watanabe

Supporting

Yamanaka, Hanae

Supporting

Newscaster

Supporting

Nakano, Kou

Supporting

Nagai, Eriko

Supporting
Because we are making use of some free resources to reduce the main server load, the player can be opened on another domain or showed as a new tab (you have to allow pop-up if you're not using Chrome).