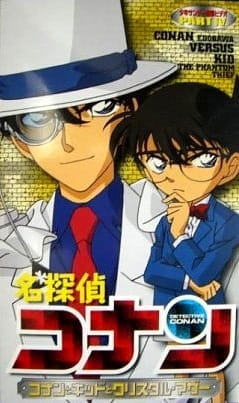 Aired: 2004
Duration: 25 min.
Viewed: 7
Synonyms: Meitantei Conan: Conan to Kid to Crystal Mother, 名探偵コナン: コナンとキッドとクリスタルマザー
Once again, Kaitou Kid has a target in mind: the Crystal Mother, Europe's largest topaz owned by Queen Selizabeth of the Principality of Ingram. He intends to steal this jewel while the Queen is stuck on a train from Tokyo to Osaka. However, Kid's abilities are put to the test, as the Queen has already concealed the gem somewhere aboard the train. Conan Edogawa, who is among train's passengers, suspects an attack from the phantom thief and begins investigating on his own, while Inspector Ginzou Nakamori is ready for a new confrontation against the elusive jewelry robber. [Written by MAL Rewrite]
Comming soon!!! But still, you're very handsome.
Please comment for requesting this anime.