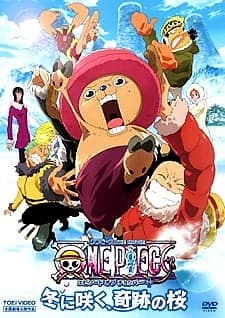 Aired: Mar 1, 2008
Duration: 1 hr. 53 min.
Viewed: 9
Synonyms: One Piece Movie 9: Bloom in the Winter, Miracle Sakura
The movie is a retelling of the Drum Island arc with new music and animation. Vivi has been removed from the plot while both Nico Robin and Franky, who joined the crew after the Drum Island arc, have been added. The movie also has the Straw Hat's new ship, the Thousand Sunny. It has been stated that Oda will be creating a new character for this movie, Wapol's older brother, Mushul, who also appears to be a Devil Fruit user. (Source: Wikipedia)
Because we are making use of some free resources to reduce the main server load, the player can be opened on another domain or showed as a new tab (you have to allow pop-up if you're not using Chrome).