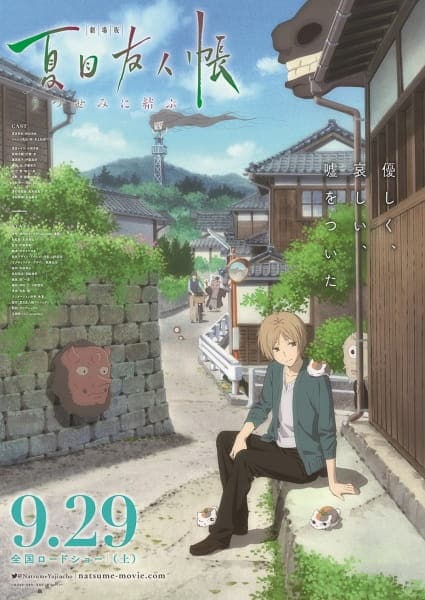 Aired: Sep 29, 2018
Duration: 1 hr. 44 min.
Viewed: 43
Synonyms: Natsume Yuujinchou Movie: Utsusemi ni Musubu
Ever since he was little, Takashi Natsume has been able to see what others could not, namely monstrous spirits known as Yokai. Natsume's late grandmother, Reiko, would challenge Yokai to contests and the ones that lost had to sign a contract with her, binding their names to her "Yujin-cho." Ever since Natsume has inherited the book, together with Nyanko Sensei, his self-proclaimed bodyguard, he spends his days trying to return the names within the book to their owners. Natsume has been busy, navigating between humans and Yokai when he coincidentally reunites with an old classmate, Yuki. It brings back painful memories of a certain Yokai. Meanwhile, Natsume also became acquainted with Yorie Tsumura, a woman in the memories of a Yokai whose name he had returned. Yorie knew much about Reiko, but now lived a peaceful life with her only son, Mukuo. Being with this family was comforting for Natsume, but apparently a mysterious Yokai has been lurking in their town. On the way back from investigating, a "Yokai seed" that had latched itself to Nyanko Sensei drops into the Fujiwaras' garden and grows overnight into a fruit tree. When Nyanko Sensei eats a fruit that is somehow shaped like himself, he suddenly splits into three! (Source: Aniplex USA)
Natsume, Takashi

Main

Madara

Main

Yuuki, Daisuke

Supporting

Ushikao no Chuukyuu Youkai

Supporting

Urihime

Supporting

Tsumura, Mukuo

Supporting

Tsumura, Yorie

Supporting

Tanuma, Kaname

Supporting

Taki, Tooru

Supporting

Sasago

Supporting

Sasada, Jun

Supporting

Roppon Ude no Youkai

Supporting

Nishimura, Satoru

Supporting

Natsume, Reiko

Supporting

Natori, Shuuichi

Supporting

Monmonbou

Supporting

Misuzu

Supporting

Kitamoto, Atsushi

Supporting

Kappa

Supporting

Hitotsume no Chuukyuu Youkai

Supporting
Because we are making use of some free resources to reduce the main server load, the player can be opened on another domain or showed as a new tab (you have to allow pop-up if you're not using Chrome).