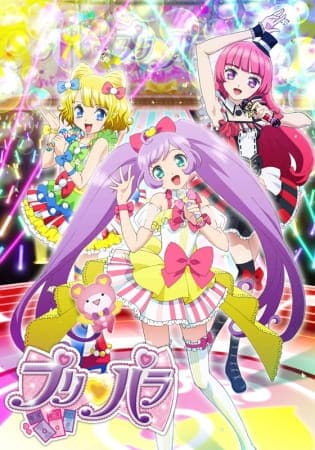 Aired: Jul 5, 2014 to Mar 28, 2017
Duration: 23 min. per ep.
Viewed: 358
Synonyms: PriPara
Every little girl waits for the day she'll get her special ticket, one that will grant her entry into the world of PriPara (Prism Paradise). PriPara is a world of music, fashion, and daily auditions for a chance to become a pop idol. Laala Manaka's friends and classmates aspire to become idols, but her school forbids elementary school students from participating in the idol competitions. Luckily, Laala is only interested in watching the idol shows. Yet somehow despite all this, she manages to bumble her way into the PriPara world, and debut as a fresh new talent. After being told all her life that she's too loud, Laala has finally found a place where she can be as loud as she wants and sing from her heart. And not only that, but there's a possibility that she might be the legendary Prism Voice. Adventure, fashion, and music awaits as Laala climbs her way to the top, on her way to become the cutest and most beloved pop idol in the world of PriPara!
Houjou, Sophie

Main

Shiratama, Mikan

Main

Manaka, Laala

Main

Midorikaze, Fuwari

Main

Minami, Mirei

Main

Shikyouin, Hibiki

Main

Toudou, Shion

Main

Tsukikawa, Chiri

Main

Vocaldoll, Falulu

Main

West, Leona

Main

West, Dorothy

Main

Kurosu, Aroma

Main

Ran

Supporting

Ookanda, Gloria

Supporting

New

Supporting

Neko

Supporting

Mr. Minami

Supporting

Mr. Manaka

Supporting

Usagi

Supporting

Nabeshima, Chanko

Supporting
Because we are making use of some free resources to reduce the main server load, the player can be opened on another domain or showed as a new tab (you have to allow pop-up if you're not using Chrome).