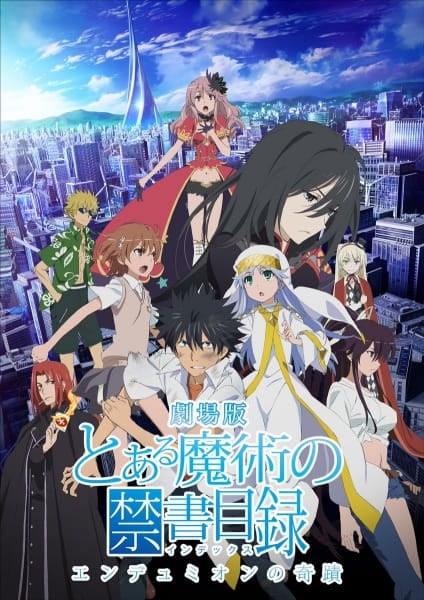 Aired: Feb 23, 2013
Duration: 1 hr. 30 min.
Viewed: 20
Synonyms: Toaru Majutsu no Index: Endymion no Kiseki
In the scientifically advanced Academy City, a miracle is about to occur: the completion of the world's first space elevator, "Endymion." Meanwhile, a certain high school student, Touma Kamijou, and his companion Index are going about their daily lives when they encounter and befriend Arisa Meigo, a cheerful and ambitious singer. When strange occurrences begin taking place throughout the city, they lead to the discovery of an intricate plot surrounding Arisa and Endymion. Things only get more complicated when the Stiyl Magnus appears, signifying that the magical world is somehow involved too... [Written by MAL Rewrite]
Librorum Prohibitorum Index

Main

Meigo, Arisa

Main

Sequenzia, Shutaura

Main

Kamijou, Touma

Main

MISAKA 10032

Supporting

Yomikawa, Aiho

Supporting

MISAKA 19090

Supporting

Saten, Ruiko

Supporting

Sequenzia, Daedalus

Supporting

Shirai, Kuroko

Supporting

Spearhead, Marie

Supporting

Stuart, Laura

Supporting

Tangleroad, Ladylee

Supporting

Tsuchimikado, Motoharu

Supporting

Tsukuyomi, Komoe

Supporting

Uiharu, Kazari

Supporting

Wannai, Kinuho

Supporting

Misaka, Mikoto

Supporting

Magnus, Stiyl

Supporting

Last Order

Supporting
Because we are making use of some free resources to reduce the main server load, the player can be opened on another domain or showed as a new tab (you have to allow pop-up if you're not using Chrome).