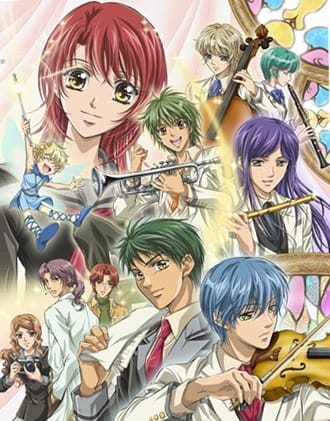 Aired: Oct 2, 2006 to Mar 26, 2007
Duration: 24 min. per ep.
Viewed: 58
Synonyms: La Corda D`Oro
Hino Kahoko is a student whose school is divided into two branches—the Normal Branch, in which students wear grey uniforms, and the Music Branch, in which the students wear white. The school's tradition is a music competition, but it is more common that students from the Music Branch are chosen to compete. Kahoko is surprised one day to encounter a fairy named Lili. Solely because she is the only student to see him, she is the only student from the Normal Branch to be in the competition. Kahoko doesn't have any musical knowledge, until Lili grants her a magic violin, one that anyone can play if they believe they can truly do it. Kahoko must now face the trials of the competition, her competitors, and her peers.
Hino, Kahoko

Main

Lili

Main

Tsuchiura, Ryotaro

Main

Tsukimori, Len

Main

Hihara, Kazuki

Main

Nozaki, Rie

Supporting

Yunoki, Miyabi

Supporting

Ousaki, Shinobu

Supporting

Sakimoto, Mizue

Supporting

Shimizu, Keiichi

Supporting

Shouji, Megumi

Supporting

Takashina, Ayano

Supporting

Takato, Mio

Supporting

Tsugawa, Mai

Supporting

Tsukimori, Father

Supporting

Yunoki, Grandmother

Supporting

Yunoki, Azuma

Supporting

Mori, Manami

Supporting

Miyauchi, Yayoi

Supporting

Kobayashi, Nao

Supporting
Because we are making use of some free resources to reduce the main server load, the player can be opened on another domain or showed as a new tab (you have to allow pop-up if you're not using Chrome).