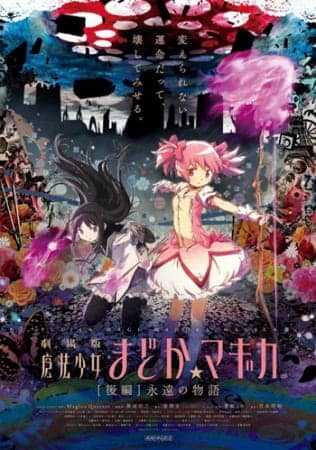 Aired: Oct 13, 2012
Duration: 1 hr. 49 min.
Viewed: 25
Synonyms: Puella Magi Madoka Magica the Movie Part 2: Eternal, Mahou Shoujo Madoka Magika Movie 2, Magical Girl Madoka Magica Movie 2, 劇場版 魔法少女まどか☆マギカ 永遠の物語
Though Sayaka Miki's wish was fulfilled, the unforeseen consequences that came with it overwhelm her, causing her soul gem to become tainted as she succumbs to despair and eventually loses her humanity. Homura Akemi reveals to Kyouko Sakura and Madoka Kaname the ultimate fate of magical girls: once their soul gem becomes tainted, it transforms into a Grief Seed, and they are reborn as witches—a truth Homura learned only through repeating history countless times in a bid to prevent Madoka's tragedy. Kyuubey only compounds their despair when he confesses his true intentions: to harness the energy created from magical girls and use it to prolong the life of the universe. As the threat of Walpurgisnacht, a powerful witch, looms overhead, Homura once again vows to protect Madoka and the world from a grim fate. Caught between honoring Homura's wish and saving the world, which one will Madoka choose in the end? Mahou Shoujo Madoka★Magica Movie 2: Eien no Monogatari is a story of inescapable destiny, and an unlikely hero who could change it all. [Written by MAL Rewrite]
Akemi, Homura

Main

Kaname, Madoka

Main

Kyuubey

Main

Kamijou, Kyousuke

Supporting

Kaname, Tatsuya

Supporting

Kaname, Tomohisa

Supporting

Kaname, Junko

Supporting

Miki, Sayaka

Supporting

Nakazawa

Supporting

Sakura, Kyouko

Supporting

Saotome, Kazuko

Supporting

Shizuki, Hitomi

Supporting

Tomoe, Mami

Supporting

Walpurgis Night

Supporting
Comming soon!!! But still, you're very handsome.
Please comment for requesting this anime.