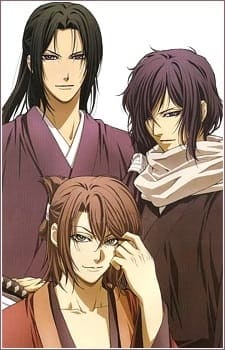 Aired: Mar, 2011
Duration: 8 min. per ep.
Viewed: 15
Synonyms: Hakuoki OVA, Hakuouki Shinsengumi Kitan OVA, 薄桜鬼
Two short OVA of Hakuouki distributed to those who purchased all six volumes of the DVD. A fandisc game "Hakuoki Zuisouroku" and an official parody "Hakuoki SSL (a high school parody)" were animated.
Harada, Sanosuke

Main

Hijikata, Toshizou

Main

Nagakura, Shinpachi

Main

Okita, Souji

Main

Saitou, Hajime

Main

Toudou, Heisuke

Main

Yukimura, Chizuru

Main

Amagiri, Kyuujuu

Supporting

Kazama, Chikage

Supporting

Kondou, Isami

Supporting

Nagumo, Kaoru

Supporting

Sannan, Keisuke

Supporting

Shiranui, Kyou

Supporting

Yamazaki, Susumu

Supporting