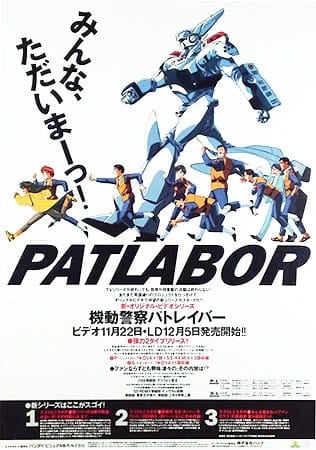 Aired: Nov 22, 1990 to Apr 23, 1992
Duration: 25 min. per ep.
Viewed: 4
Synonyms: Patlabor – The New Files
Special Vehicles Division 2 is back on duty, along with their Ingram Patrol Labor (Patlabor) robots. Using their courage as well as the Ingrams, Captain Goto's motley crew of officers battle crime in Tokyo city. They also deal with their personal lives, as well as the supernatural. (Source: ANN)
Oota, Isao

Main

Sakaki, Seitarou

Main

Shinohara, Asuma

Main

Shinshi, Mikiyasu

Main

Izumi, Noa

Main

Yamazaki, Hiromi

Supporting

Wong, Richard

Supporting

Shiba, Shigeo

Supporting

Sakurayama, Momoko

Supporting

Sakuma

Supporting

Nagumo, Shinobu

Supporting

Matsui, Takahiro

Supporting

Kurosaki

Supporting

Kumagami, Takeo

Supporting

Kaiho

Supporting

Harchand, Badrinath

Supporting

Gotou, Kiichi

Supporting

Clancy, Kanuka

Supporting
Because we are making use of some free resources to reduce the main server load, the player can be opened on another domain or showed as a new tab (you have to allow pop-up if you're not using Chrome).