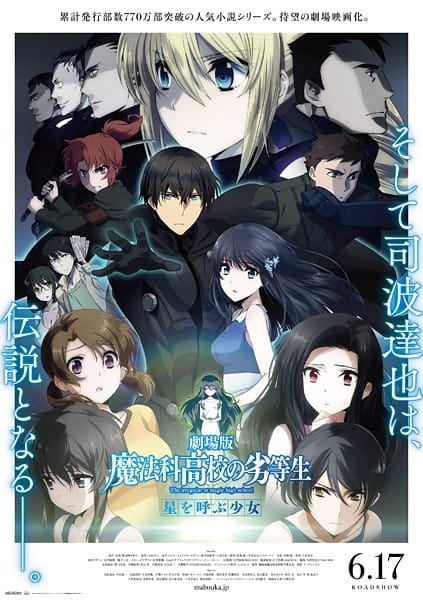 Aired: Jun 17, 2017
Duration: 1 hr. 30 min.
Viewed: 24
Synonyms: Mahouka Koukou no Rettousei Movie: Hoshi wo Yobu Shoujo
In the story, the seasons have changed and it will soon be the second spring. Tatsuya and Miyuki have finished their first year at First Magic High School and are on their spring break. The two go to their villa on the Ogasawara Island archipelago. After only a small moment of peace a lone young woman named Kokoa appears before them. She has abandoned the Naval base and she tells Tatsuya her one wish. (Source: ANN)
Shiba, Tatsuya

Main

Shiba, Miyuki

Main

Canopus, Benjamin

Supporting

Chiba, Erika

Supporting

Juumonji, Katsuto

Supporting

Kitayama, Shizuku

Supporting

Kokoa

Supporting

Kudou Shields, Angelina

Supporting

Mitsui, Honoka

Supporting

Saegusa, Mayumi

Supporting

Saijou, Leonhart

Supporting

Sakurai, Honami

Supporting

Shibata, Mizuki

Supporting

Watanabe, Mari

Supporting

Yoshida, Mikihiko

Supporting
Because we are making use of some free resources to reduce the main server load, the player can be opened on another domain or showed as a new tab (you have to allow pop-up if you're not using Chrome).