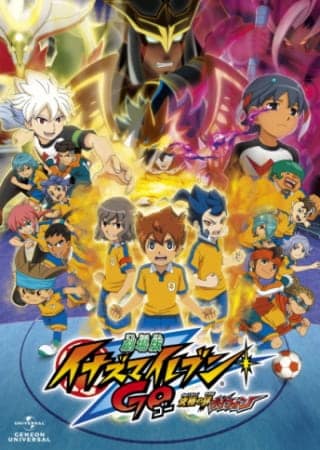 Aired: Dec 23, 2011
Duration: 1 hr. 30 min.
Viewed: 115
Synonyms: Inazuma Eleven Go: Kyuukyoku no Kizuna Gryphon
The Raimon team has been invited by Fifth Sector strangely to a soccer camp. When they agree, things go out of hand since it was revealed that Fifth Sector wants to eliminate them once and for all on the island called God Eden. Now, the Raimon team needs to train harder to be able to show that they have the strength to fight back and prove Fifth Sector's doings wrong. (Source: Inazuma Eleven Wiki)
Hakuryuu

Main

Matsukaze, Tenma

Main

Shindou, Takuto

Main

Shuu

Main

Tsurugi, Kyousuke

Main

Endou, Mamoru

Main

Seidou, Dan

Supporting

Kino, Aki

Supporting

Seto, Midori

Supporting

Noya, Keiichirou

Supporting

Nishizono, Shinsuke

Supporting

Nishiki, Ryouma

Supporting

Mutou, Genzou

Supporting

Motono, Tsuyoshi

Supporting

Kurumada, Gouichi

Supporting

Kurama, Norihito

Supporting

Kiya, Kouji

Supporting

Kirino, Ranmaru

Supporting

Kinzan, Kyouzou

Supporting

Yuuki, Jou

Supporting
Because we are making use of some free resources to reduce the main server load, the player can be opened on another domain or showed as a new tab (you have to allow pop-up if you're not using Chrome).