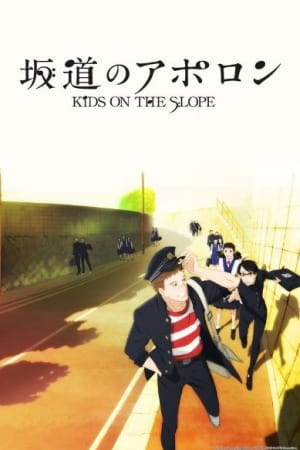 Aired: Apr 13, 2012 to Jun 29, 2012
Duration: 22 min. per ep.
Viewed: 15
Synonyms: Kids on the Slope, Sakamichi no Aporon, Apollo on the Slope, 坂道のアポロン
Introverted classical pianist and top student Kaoru Nishimi has just arrived in Kyushu for his first year of high school. Having constantly moved from place to place since his childhood, he abandons all hope of fitting in, preparing himself for another lonely, meaningless year. That is, until he encounters the notorious delinquent Sentarou Kawabuchi. Sentarou's immeasurable love for jazz music inspires Kaoru to learn more about the genre, and as a result, he slowly starts to break out of his shell, making his very first friend. Kaoru begins playing the piano at after-school jazz sessions, located in the basement of fellow student Ritsuko Mukae's family-owned record shop. As he discovers the immense joy of using his musical talents to bring enjoyment to himself and others, Kaoru's summer might just crescendo into one that he will remember forever. Sakamichi no Apollon is a heartwarming story of friendship, music, and love that follows three unique individuals brought together by their mutual appreciation for jazz. [Written by MAL Rewrite]
Kawabuchi, Sentarou

Main

Mukae, Ritsuko

Main

Nishimi, Kaoru

Main

Arita, Isao

Supporting

Fukahori, Mother

Supporting

Fukahori, Father

Supporting

Fukahori, Yurika

Supporting

Homeroom teacher

Supporting

Kaoru's aunt

Supporting

Katsuragi, Junichi

Supporting

Kawabuchi, Grandmother

Supporting

Kawabuchi, Father

Supporting

Kouta

Supporting

Male customer

Supporting

Mariko

Supporting

Maruo, Shigetora

Supporting

Matsuoka, Seiji

Supporting

Mother

Supporting

Mukae, Tsutomu

Supporting

Muroi

Supporting
Comming soon!!! But still, you're very handsome.
Please comment for requesting this anime.