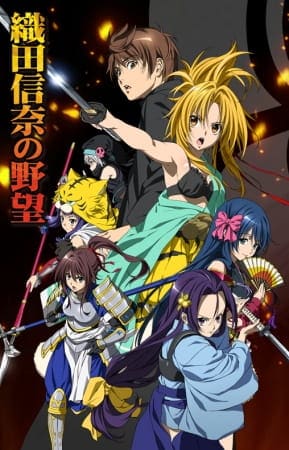 Aired: Jul 9, 2012 to Sep 24, 2012
Duration: 24 min. per ep.
Viewed: 205
Synonyms: Oda Nobuna No Yabou
High school student Yoshiharu Sagara wakes up and finds himself in the middle of a raging Sengoku period battle. He is saved by the legendary Hideyoshi Toyotomi, but at the cost of the hero's life. With his dying breath, the warrior pleads for Yoshiharu to become a feudal lord in his place. Now that the course of history has been changed, Yoshiharu pledges to keep the timeline from diverging any further. Yet, after rescuing Nobuna Oda—whom he discovers is actually the fabled Nobunaga Oda's female counterpart—Yoshiharu realizes he has been transported to an alternate reality where most of Japan's historical warlords are now cute girls! To set things right and find a way back home, Yoshiharu agrees to become one of Nobuna's retainers and assist her in a conquest of Japan. As Nobuna initiates her campaign, Yoshiharu discovers that the history he learned from playing the video game "Nobunaga's Ambition" allows him to predict future events and turn the tide of war. Using this invaluable gift to aid the Oda clan's beautiful generals, Yoshiharu hopes to help his new lord fulfill her dream and win the hearts of women everywhere. [Written by MAL Rewrite]
Sagara, Yoshiharu

Main

Oda, Nobuna

Main

Tomizuka, Motoshige

Supporting

Matsunaga, Hisahide

Supporting

Ujiie, Bokuzen

Supporting

Tsuda, Soukyuu

Supporting

Tsuchida, Gozen

Supporting

Saitou, Yoshitatsu

Supporting

Saitou, Dousan

Supporting

Omaki no Kata

Supporting

Okazaki, Tadazane

Supporting

Oda, Nobukatsu

Supporting

Niwa, Nagahide

Supporting

Nene

Supporting

Narrator

Supporting

Nagai, Hayatonokami

Supporting

Mizoo, Shoubee

Supporting

Miyoshi, Nagayasu

Supporting

Miyoshi, Masayasu

Supporting

Zenki

Supporting
Because we are making use of some free resources to reduce the main server load, the player can be opened on another domain or showed as a new tab (you have to allow pop-up if you're not using Chrome).