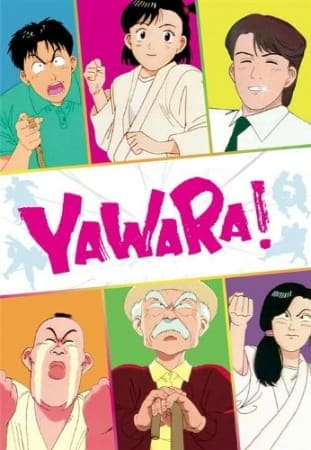 Aired: Oct 16, 1989 to Sep 21, 1992
Duration: 25 min. per ep.
Viewed: 551
Synonyms: Yawara! A Fashionable Judo Girl
Yawara! is a sports anime laced with comedic and romance elements. It starts off with Yawara Inokuma, a high school girl who is most interested in doing the things that your average Japanese high school girl does; however, she has been trained in Judo for years by her grandfather, Jigorou (A former Japan Judo Champion), who has much grander plans in store for her as a Judo superstar. He manipulates matters so that Yawara ends up having to perform in matches and tournaments. His final plan is for Yawara to "Win the Gold Medal in the Olympics and be awarded the Nation Medal of Honor." (Source: AniDB, edited)
Inokuma, Yawara

Main

Matsuda, Kousaku

Main

Inokuma, Jigorou

Main

Rockwell, Jody

Supporting

Matsuda, Father

Supporting

Rene

Supporting

Prost

Supporting

Polnareff

Supporting

Ozaki

Supporting

Ootawara, Older Sister

Supporting

Ootawara, Miyoko

Supporting

Ootaguro, President

Supporting

Oobayashi, Takayo

Supporting

Onoda

Supporting

Ogawa

Supporting

Ogawa, Tamami

Supporting

Ogata, Coach

Supporting

Mitsuhashi, Yoshiko

Supporting

Minamida, Youko

Supporting

Mimieux

Supporting
Because we are making use of some free resources to reduce the main server load, the player can be opened on another domain or showed as a new tab (you have to allow pop-up if you're not using Chrome).