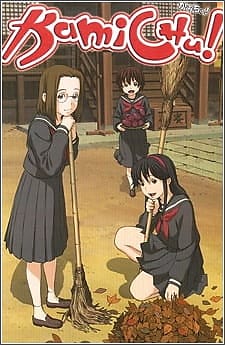 Aired: Nov 23, 2005 to Mar 29, 2006
Duration: 26 min. per ep.
Viewed: 8
Synonyms: The Goddess is a Middle School Student, Kami-chu!: Kami-sama wa Chuugakusei, かみちゅ!
Episodes that were only released on the DVD afterwards and didn't air on TV. Episode numbers: 7.5, 9.5, 10.5, 12.5. For a complete list of episodes and the order they're included in the Kamichu! DVD/BD box set, see the More Info tab.
Hitotsubashi, Tama

Main

Hitotsubashi, Yurie

Main

Saegusa, Matsuri

Main

Shijo, Mitsue

Main

Yashima

Main

Hitotsubashi, Kenkichi

Supporting

Hitotsubashi, Shoukichi

Supporting

Hitotsubashi, Akane

Supporting

Ninomiya, Kenji

Supporting

Saegusa, Miko

Supporting

Saegusa, Kouun

Supporting

Tyler

Supporting