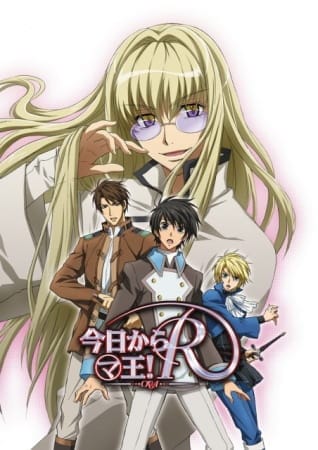 Aired: Oct 26, 2007 to Mar 28, 2008
Duration: 25 min. per ep.
Viewed: 415
Synonyms: Kyou kara Maou! R
Life has returned to some form of normalcy after the end of the series, and so His Majesty Yuuri Shibuya travels to oversee how things are going. While doing so, he runs into the king of Small Shimeron--Sararegi. But it seems there may be something more to him than the friendly king he presents himself as. Yuuri go back to Shimaron to relax and meet some friends, when the "king" of Little Shimaron suddenly joins the group and wants the Maou to come to his country. The Original king sends a message to Yuuri's brother and his friend that Yuuri is in trouble. (Source: ANN)
von Bielefeld, Wolfram

Main

von Christ, Gunter

Main

von Voltaire, Gwendal

Main

Weller, Conrad

Main

Shibuya, Yuuri

Main

Weller, DunHeely

Supporting

von Wincott, Suzanna Julia

Supporting

von Spitzberg, Cecilie

Supporting

von Spitzberg, Stoffel

Supporting

von Karbelnikoff, Anissina

Supporting

von Grantz, Adelbert

Supporting

Ulrike

Supporting

Shinou

Supporting

Shibuya, Miko

Supporting

Shibuya, Shoma

Supporting

Shibuya, Shori

Supporting

Saralegui

Supporting

Murata, Ken

Supporting

Morgif, Mullem Desoive Eligh

Supporting

King Belar

Supporting
Because we are making use of some free resources to reduce the main server load, the player can be opened on another domain or showed as a new tab (you have to allow pop-up if you're not using Chrome).