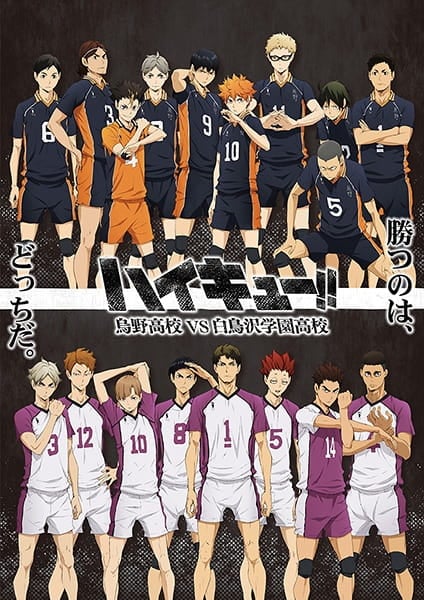 Aired: Oct 8, 2016 to Dec 10, 2016
Duration: 24 min. per ep.
Viewed: 88
Synonyms: Haikyu!! 3rd Season, Haikyuu!! Third Season, Haikyuu!! Karasuno High VS Shiratorizawa Academy, ハイキュー!! 烏野高校 VS 白鳥沢学園高校
After the victory against Aoba Jousai High, Karasuno High School, once called "a fallen powerhouse, a crow that can't fly," has finally reached the climax of the heated Spring tournament. Now, to advance to nationals, the Karasuno team has to defeat the powerhouse Shiratorizawa Academy. Karasuno's greatest hurdle is their adversary's ace, Wakatoshi Ushijima, the number one player in the Miyagi Prefecture, and one of the country's top three aces. Only the strongest team will make it to the national tournament. Since this match is the third-year players' last chance to qualify for nationals, Karasuno has to use everything they learned during the training camp and prior matches to attain victory. Filled with restlessness and excitement, both teams are determined to come out on top in the third season of Haikyuu!!. [Written by MAL Rewrite]
Hinata, Shouyou

Main

Kageyama, Tobio

Main

Akaashi, Keiji

Supporting

Azumane, Asahi

Supporting

Bokuto, Koutarou

Supporting

Ennoshita, Chikara

Supporting

Goshiki, Tsutomu

Supporting

Haiba, Lev

Supporting

Iwaizumi, Hajime

Supporting

Izumi, Yukitaka

Supporting

Kawanishi, Taichi

Supporting

Kurokawa, Hiroki

Supporting

Kuroo, Tetsurou

Supporting

Michimiya, Yui

Supporting

Nishinoya, Yuu

Supporting

Oikawa, Tooru

Supporting

Oohira, Reon

Supporting

Saitou, Akira

Supporting

Sawamura, Daichi

Supporting

Sekimukai, Kouji

Supporting
Comming soon!!! But still, you're very handsome.
Please comment for requesting this anime.