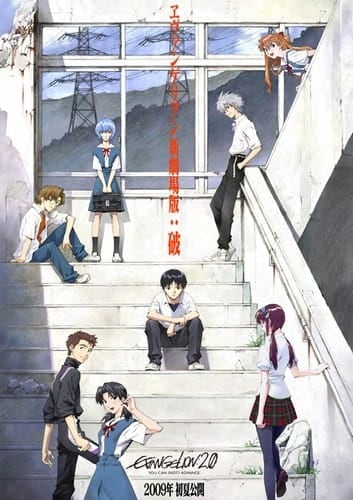 Aired: Jul 27, 2009
Duration: 1 hr. 52 min.
Viewed: 717
Synonyms: Evangelion: 2.22 You Can (Not) Advance
When the threat of the Angel menace escalates, mankind's defense force is pushed to its limits, with Nerv at the forefront of the struggle. Shinji Ikari and his partner Rei Ayanami are assisted by two new pilots: the fiery Asuka Langley Shikinami and the mysterious Mari Illustrious Makinami. With the aid of their mechanized Evangelion units, equipped with weapons perfect for engaging their monstrous opponents, the four young souls fight desperately to protect their loved ones and prevent an impending apocalypse. But when startling secrets are brought to light, will the heroes' greatest challenge prove to be the monsters...or humanity itself? [Written by MAL Rewrite]
Ikari, Shinji

Main

Katsuragi, Misato

Main

Ayanami, Rei

Main

Suzuhara, Touji

Supporting

Souryuu, Asuka Langley

Supporting

Pen Pen

Supporting

Nagisa, Kaworu

Supporting

Makinami, Mari Illustrious

Supporting

Lorentz, Keel

Supporting

Kaji, Ryouji

Supporting

Ikari, Yui

Supporting

Ikari, Gendou

Supporting

Ibuki, Maya

Supporting

Hyuuga, Makoto

Supporting

Horaki, Hikari

Supporting

Fuyutsuki, Kohzou

Supporting

Aoba, Shigeru

Supporting

Akagi, Ritsuko

Supporting

Aida, Kensuke

Supporting
Because we are making use of some free resources to reduce the main server load, the player can be opened on another domain or showed as a new tab (you have to allow pop-up if you're not using Chrome).