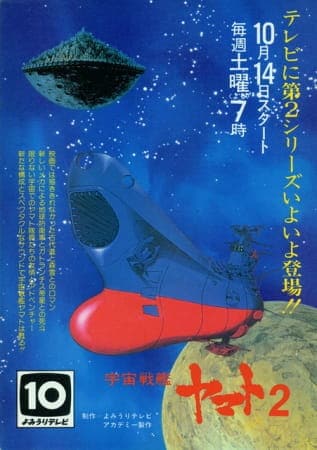 Aired: Oct 14, 1978 to Apr 7, 1979
Duration: 24 min. per ep.
Viewed: 6
Synonyms: Star Blazers: The Comet Empire, Space Battleship Yamato 2, Star Blazers 2, Space Cruiser Yamato 2, Uchu Senkan Yamato 2, 宇宙戦艦ヤマト2
A year has passed since the Star Force returned to save the Earth but another danger now approaches from deep space. A gigantic White Comet hurtles toward our galaxy, obliterating everything in its path. But it is no ordinary comet—it is the deadly Comet Empire, conqueror of worlds... and Earth is the next target! Against orders, the Star Force blasts off to investigate, but even if they can get past the flagship Andromeda, they don't yet know the true nature of their new enemy! (Source: AniDB)
Kodai, Susumu

Main

Mori, Yuki

Main

Sanada, Shirou

Main

Shima, Daisuke

Main

Desler, Aberdt

Main

Zordar

Supporting

Yamamoto, Akira

Supporting

Toudou, Heikurou

Supporting

Tokugawa, Hikozaemon

Supporting

Teresa

Supporting

Talan, Ghader

Supporting

Shima, Jiro

Supporting

Saitou, Hajime

Supporting

Sado, Sakezou

Supporting

Oota, Kenjirou

Supporting

Nanbu, Yasuo

Supporting

Katou, Saburou

Supporting

Hijikata, Ryuu

Supporting

Analyzer

Supporting

Aihara, Yoshikazu

Supporting
Because we are making use of some free resources to reduce the main server load, the player can be opened on another domain or showed as a new tab (you have to allow pop-up if you're not using Chrome).