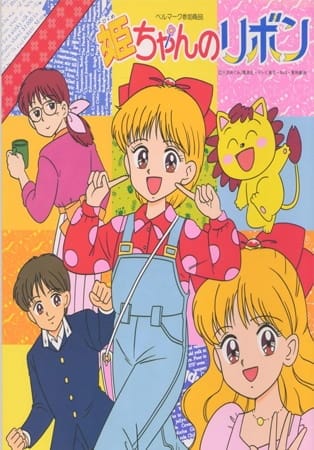 Aired: Oct 2, 1992 to Dec 3, 1993
Duration: 23 min. per ep.
Viewed: 242
Synonyms: Hime-chan no Ribbon
Erika, the princess of the Magic Kingdom has come to Earth in order to find a human girl who looks just like her. That girl turns out to be Himeko Nonohara, a tomboy's tomboy. Erika must give Himeko a magical item she has created in order to prove her worth as a successor to the crown. Himeko must test this item, a hair ribbon that allows her to transform into any other person she sees, to see if it is worthy. The series follows Himeko's adventures and her budding romance with Daichi, the boy who discovers her secret. (Source: ANN)
Nonohara, Himeko

Main

Pokota

Main

Kobayashi, Daichi

Main

Yamashita, Hatsune

Supporting

Taniguchi

Supporting

Takada, Tetsuo

Supporting

Rand, Camille

Supporting

Nonohara, Hanako

Supporting

Nonohara, Tarou

Supporting

Nonohara, Aiko

Supporting

Nonohara, Yumeko

Supporting

Mori, Manami

Supporting

Kusanagi, Tsuyoshi

Supporting

Kobayashi, Shintarou

Supporting

King

Supporting

Kamikura, Ichiko

Supporting

Hijiri, Yuka

Supporting

Hibino, Hikaru

Supporting

Hasekura, Kouichi

Supporting

Hasekura, Emi

Supporting
Because we are making use of some free resources to reduce the main server load, the player can be opened on another domain or showed as a new tab (you have to allow pop-up if you're not using Chrome).