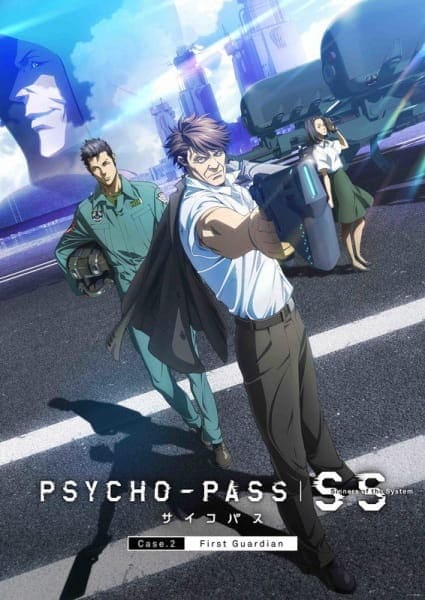 Aired: Feb 15, 2019
Duration: 1 hr.
Viewed: 143
Synonyms: Psycho-Pass: Sinners of the System Case.2 - First Guardian
"What really happened during the Footstamp Operation?!" 2112; the summer before Akane Tsunemori was assigned to Division One of the Public Safety Bureau's Criminal Investigation Department. Teppei Sugo, an accomplished pilot of the Defense Army's 15th Integrated Task Force, joins the military operation in Okinawa. Three months later, an unmanned combat drone opens fire on the Ministry of Defense in Tokyo. Enforcer Tomomi Masaoka of CID Division One is dispatched to Sugo's military base to investigate the truth behind this case. (Source: Official Website, translated by Edo)
Masaoka, Tomomi

Main

Sugou, Teppei

Main

Aoyanagi, Risa

Supporting

Ginoza, Nobuchika

Supporting

Hanashiro, Frederica

Supporting

Kagari, Shuusei

Supporting

Karanomori, Shion

Supporting

Kougami, Shinya

Supporting

Kunizuka, Yayoi

Supporting

Shimotsuki, Mika

Supporting

Takaesu, Yoshito

Supporting

Tsunemori, Akane

Supporting
Because we are making use of some free resources to reduce the main server load, the player can be opened on another domain or showed as a new tab (you have to allow pop-up if you're not using Chrome).