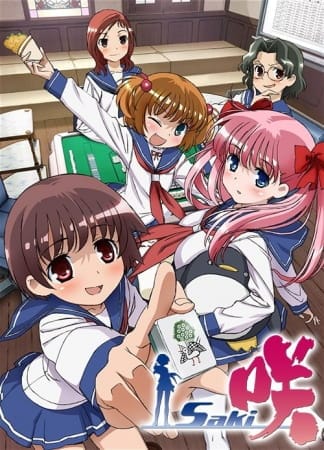 Aired: Apr 6, 2009 to Sep 28, 2009
Duration: 24 min. per ep.
Viewed: 129
Synonyms: Saki
Saki Miyanaga is a high school freshman who doesn't like mahjong. Ever since she was a child, she would lose her New Year's gift money during her family mahjong game. If she won, her parents would be upset, and if she lost, well, she lost. As a result, she's learned to play in such a way that her score differential always remains ±0: not good enough to win, but not bad enough to lose. When we meet her, she's being dragged to her school's mahjong club by an old friend. How will a girl who hates mahjong, yet has become adept at the game as a result of her upbringing, survive in this environment? (Sources: ANN and AniDB)
Kataoka, Yuuki

Main

Miyanaga, Saki

Main

Someya, Mako

Main

Suga, Kyoutarou

Main

Takei, Hisa

Main

Haramura, Nodoka

Main

Yoshitome, Miharu

Supporting

Miyanaga, Teru

Supporting

Touyoko, Momoko

Supporting

Tsuyama, Mutsuki

Supporting

Tsuchiya, Yuri

Supporting

Yamaguchi, Daisuke

Supporting

Ryuumonbuchi, Touka

Supporting

Nishida, Junko

Supporting

Nanpo, Kazue

Supporting

Nanpo, Satoru

Supporting

Naiki, Ichita

Supporting

Nagamori, Kazuko

Supporting

Murohashi, Hiroko

Supporting

Yumeno, Maho

Supporting
Because we are making use of some free resources to reduce the main server load, the player can be opened on another domain or showed as a new tab (you have to allow pop-up if you're not using Chrome).