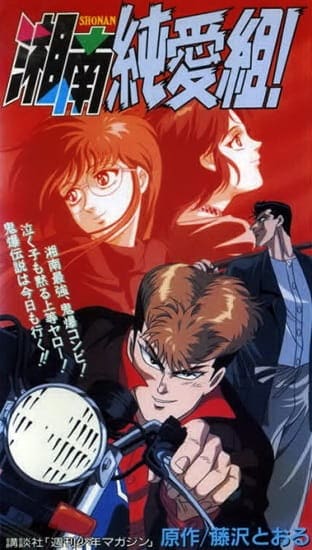 Aired: Jan 21, 1994 to Jan 24, 1997
Duration: 46 min. per ep.
Viewed: 72
Synonyms: Shonan Junai Gumi!
Eikichi Onizuka and Ryuji Danma are members of infamous biker duo, the Oni Baku. When not out riding around, they can be found in school, trying to pick up young women. This is the story of the young Onizuka, who would later become the greatest teacher in Japan, and his partner Ryuji in their quest to lose their virginity and reach maturity. They are widely feared bosozoku, and are known for their tenacity and viciousness in a fight. However, this lifestyle does not exactly endear them to the opposite gender, so they decide to change their ways. However, this is easier said than done. (Source: ANN)
Onizuka, Eikichi

Main

Danma, Ryuuji

Main

Yuna

Supporting

Yokokawa, Takashi

Supporting

Yarita, Aina

Supporting

Tsukai, Tsuyoshi

Supporting

Shirayuri, Momoko

Supporting

Sato, Masami

Supporting

Saejima, Toshiyuki

Supporting

Onizuka, Mother

Supporting

Okubo, Mitsuaki

Supporting

Natsumi

Supporting

Nagase, Nagisa

Supporting

Murakoshi, Ayumi

Supporting

Masaki, Kyosuke

Supporting

Machida

Supporting

Kamishima, Toshiki

Supporting

Kamata, Jun

Supporting

Kadena, Nao

Supporting

Izumo, Mariko

Supporting
Because we are making use of some free resources to reduce the main server load, the player can be opened on another domain or showed as a new tab (you have to allow pop-up if you're not using Chrome).