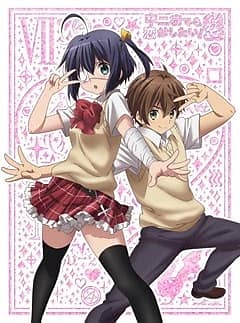 Aired: Sep 17, 2014
Duration: 24 min.
Viewed: 11
Synonyms: Chuunibyou demo Koi ga Shitai! Ren: The Rikka Wars
One normal school day, Rikka Takanashi notices Makoto Isshiki secretly passing a flash drive to Yuuta Togashi. Curious, Rikka talks to her friends about the case, who agree that Yuuta is hiding something from her. They decide to discover the contents of the flash drive by any means necessary, but to their surprise, it merely contained pictures of an idol that Yuuta adored back in middle school. However, Rikka takes offense, as she claims that this breaks their contract as lovers and demands Yuuta to return the flash drive. Although having seen Yuuta return the flash drive, she still felt uncertain about the situation. This leads to her sneaking into Yuuta's room during the night, only to find out that the flash drive had not been returned! Scanning through its contents, she hurriedly rushes to bed when Yuuta enters her room. To her terror, she finds the flash drive crushed due to her negligence in keeping it in a safe place. Yuuta quickly finds out and demands an apology. However, Rikka too, demands an apology from him, resulting in both of them refusing to be the one to apologize first. Will the two lovebirds be able to resolve their argument? [Written by MAL Rewrite]
Dekomori, Sanae

Main

Nibutani, Shinka

Main

Takanashi, Rikka

Main

Togashi, Yuuta

Main

Tsuyuri, Kumin

Main

Isshiki, Makoto

Supporting

Shichimiya, Satone

Supporting

Takanashi, Tooka

Supporting

Togashi, Kuzuha

Supporting

Tsukumo, Nanase

Supporting
Because we are making use of some free resources to reduce the main server load, the player can be opened on another domain or showed as a new tab (you have to allow pop-up if you're not using Chrome).