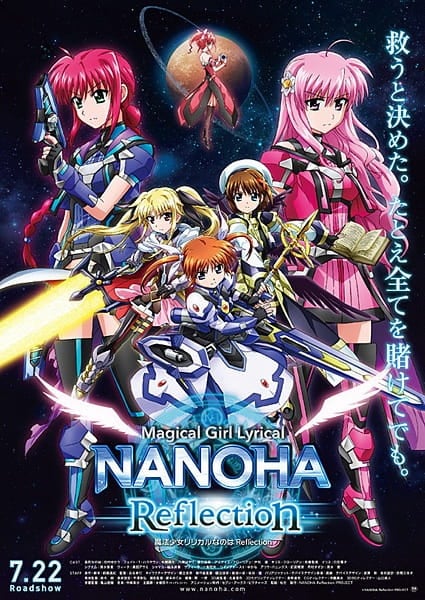 Aired: Jul 22, 2017
Duration: 1 hr. 51 min.
Viewed: 12
Synonyms: Mahou Shoujo Lyrical Nanoha: Reflection
A pair of researchers stays behind on their dying planet of Eltria with their two daughters, Amitie and Kirie, in hopes of finding a way to revive the planet. But when the husband Granz falls ill it seems their dream of reviving the planet will die. Against her older sister's wishes, Kirie sets off with her childhood friend Iris to seek help from a distant alternate world. They arrive in Japan on Earth to search for the key to their planet's regeneration. There, they meet Nanoha, Fate, and Hayate. (Source: ANN)
Florian, Kyrie

Main

Iris

Main

Takamachi, Nanoha

Main

Testarossa, Fate

Main

Yagami, Hayate

Main

Florian, Amitie

Main

Lowran, Leti

Supporting

Zafila

Supporting

Reinforce II

Supporting

Scrya, Yuuno

Supporting

Shamal

Supporting

Signum

Supporting

Takamachi, Momoko

Supporting

The Destructor, Stern

Supporting

The Slasher, Levi

Supporting

Tsukimura, Suzuka

Supporting

Vita

Supporting

Lord, Dearche

Supporting

Limietta, Amy

Supporting

Harlaown, Chrono

Supporting
Because we are making use of some free resources to reduce the main server load, the player can be opened on another domain or showed as a new tab (you have to allow pop-up if you're not using Chrome).