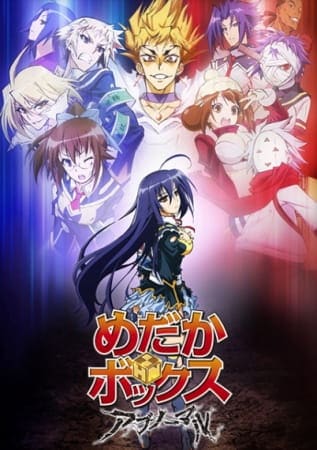 Aired: Oct 11, 2012 to Dec 27, 2012
Duration: 24 min. per ep.
Viewed: 220
Synonyms: Medaka Box Abnormal
After the defeat of Myouri Unzen at the hands of Medaka Kurokami and her Student Council, peace has returned to Hakoniwa Academy—at least, for a short while. Soon, Medaka, Zenkichi Hitoyoshi, Kouki Akune, and Mogana Kikaijima find themselves wrapped up in another sinister scheme, known as the "Flask Plan," led by the school's principal himself. However, the council's first problem is to deal with a whole new group of superhuman students calling themselves the "Thirteen Party," led by the egotistical but powerful Oudo Miyakonojou. With the mysterious Flask Plan, Oudo's tyranny, and the resurfacing of an old enemy, the state of Hakoniwa Academy is far from tranquil, and Medaka and her companions have their hands full as things only get a lot more abnormal. [Written by MAL Rewrite]
Hitoyoshi, Zenkichi

Main

Kikaijima, Mogana

Main

Kurokami, Medaka

Main

Kurokami, Maguro

Main

Akune, Kouki

Main

Naze, Youka

Supporting

Yunomae, Otome

Supporting

Noogata, Kenri

Supporting

Onigase, Harigane

Supporting

Renpei, Iya

Supporting

Sakanoue, Kae

Supporting

Shiranui, Hansode

Supporting

Shiranui, Hakama

Supporting

Sukinasaki, Saki

Supporting

Takachiho, Shigusa

Supporting

Tsurumisaki, Yamami

Supporting

Tsushima, Sanou

Supporting

Tsushima, Unou

Supporting

Unzen, Myouga

Supporting

Unzen, Myouri

Supporting
Because we are making use of some free resources to reduce the main server load, the player can be opened on another domain or showed as a new tab (you have to allow pop-up if you're not using Chrome).